-THIS IS FROM CDM HANIS BLOG,
ABOUT OUR GROUP'S ACHIEVEMENT. EVEN THOUGH I'M NOT IN THE LIST, BUT I'M PROUD OF ALL THEM...MAKES ME MORE INSPIRED...INSYAALLAH 1 DAY, I'LL BECOME JUST LIKE THEM!-
CONGRATZZZ TO ALL BUSINESS PARTNERS YANG BERJAYA MELAKUKAN JUALAN TERUNGGUL 50 sets PREMIUM BEAUTIFUL SEBULAN!!
total of 9 people!! Awesome!!!

DSM ALIAH NASREEN
DSM NAA KAMARUDDIN
DSM ZURAIDA
DSM ROSLIDA @IDA
DSM TAHIRAH
DSM LINDA
SSM AWIN
DSM NOR FADZILAH
DSM FARIHAH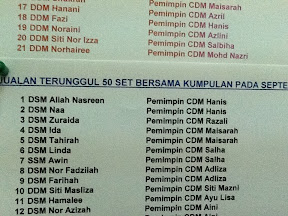 Tahniah juga kepada CDM baru kumpulan kami iaitu Cdm Adliza dibawah pimpinan CDM Salha

Congratz juga kepada DDM Hane Hassan dan pemenang tabung kereta DSM Adibah Karimah
This coming Saturday ada special celebration di B32 , so to all business partners and future business partners jom ramai2 penuhkan dewan!! Green Team rawkkk!!!!